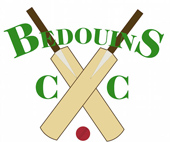 For best part of three decades, the Bedouins Cricket Club has been parading its own brand of social cricket.  "Seriously for fun" is the way the game is played.  And over the years, we have been fortunate in finding opponents who, without exception, have wanted to play the great game in the same fashion.
For the latter half of its existence, Bedouins CC has had the privilege of using the beautiful Enville CC ground for its "home" matches.  Set in the superb surroundings of the Enville Hall estate (pictured above), the ground has provided the ideal base for entertaining other "social" sides.  Hospitality facilities in the pavilion are first-class, with excellent bar arrangements for post-match festivities.  And the Bedouins have earned a justified reputation for the unbeatable buffet suppers that are laid on by the tireless Bedouettes.
The Bedouins fixture card typically runs to around 15 matches in the season, mostly 20-over games on Wednesday evenings, but including a few 40-over Sunday afternoon games.  We are currently looking for tour opportunities, get in touch if you fancy a game.
If you would like to arrange a fixture with us you can email the club at info@bedouinscricket.co.uk