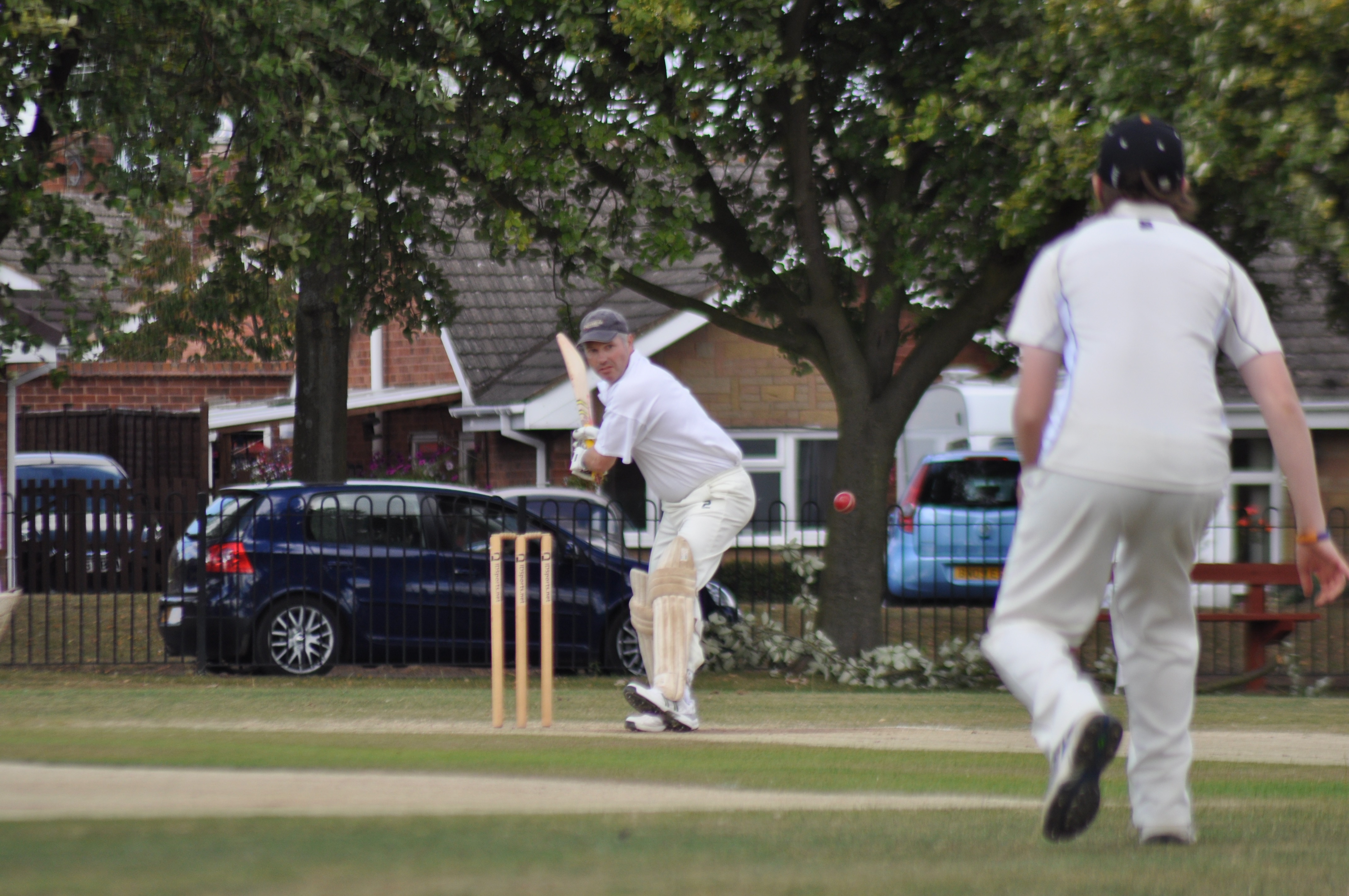 Alveley v Bedouins at Alveley – Sunday, 21 August 2011
Beds win by  55 runs
Bedouins finished their 2011 season with a trip to Alveley for a 30 over-a-side game on a pleasantly sunny Sunday afternoon.
Thomas and Ferguson were back in the side, with Lock and Branch otherwise engaged and Currie picking up fares around the Midlands. Johnston's dodgy knee got the better of him again.
Alveley do a superb job on preparing and looking after their ground. I believe it won the award for Best Kept Ground in Shropshire this season, and it looks like it too.
Bedouins batted first, cheered on by a vast travelling support, mostly Bedouettes, mostly sunning themselves. As usual, Hill A. was first up, forming a new opening partnership with Ferguson (left). Hill A. (pictured above) wasted no time and went off like an express train, hitting boundary after boundary on a very fast outfield. It saved him having to run on his dodgy foot. Ferguson was a little more cautious at the other end and was bowled for 10.
The usually reliable Thomas, in at three, failed to trouble the scorers, which brought Gregory to the crease. He supported Hill A. on his demolition of the Alveley bowling until the latter was finally bowled for 40. Boom Boom Bywater was back to his old self and looked in little trouble however Gregory succumbed when on 11.
Spratley made an elegant 20 and showed why he's moving up the batting order but his demise brought Hancock to the wicket. Hancock has struggled to live up to the name of his bat this season (Destroyer) after the promise of last season. Things didn't improve here with a golden duck. Confidence is low, every batsman goes through it but it's nothing that a winter in the nets won't solve or a half-hour in the showers with Captain of Vice.
Bywater (right) proved he was back on form retiring on 51 and Susman (31) and Hill J. (14) had some fun in the last few overs, the latter making the spectators dive for cover at times. Pearson will have done his average good finishing with 2 not out. Bedouins totalled 197 for 8.
At this point tea was taken and rather splendid it was too. Bedouins then prepared themselves for a hard session in the field and hard it proved to be with Alveley's opening pair finding it easy to pick up runs, making good use of the lightening quick outfield. Opening bowlers Spratley  (0 for 29) and Pearson (0 for 35) both found it hard to contain the Alveley pair and they were 66 for 0 after ten overs.
At this point Alveley looked favourites but as we all know a wicket can change the game drastically. Thomas made the break through having Twigg caught behind on 39. He was economical too and finished with 1 for 17 from 5 overs. George had a brief spell at the other end before retiring with a bad back (we've told you about abstaining the night before a game). He did manage to snap up the wicket of the other opener, Jones D. for 43. A vicious caught and bowled that may have caused serious damage if he hadn't got his hands to it.
Susman took over from the injured George (left) and wickets were now starting to tumble regularly. Gregory attacked from the other end and took a wicket is his second over. The ball was pulled  to square leg to the waiting Ferguson, who positioned himself under the ball. The ball popped into his hands and straight out again (a common sight with the Bedouins) however he snaffled it at the second attempt. A good effort with the ball coming out of the sun. He then repeated exactly the same feat (though this time without the hinderance of the sun) to much hilarity a couple of overs later off Susman.
There was little left in the way of resistance from Alveley after their openers apart from a couple of sixes; one from Childs and one from Butler but Alveley never really looked like hitting their target and in the end were 55 runs short. Susman finished with 3 for 20 from 5 overs and Gregory 1 for 11 from 5. Bywater had also chipped in with a wicket in his 3 overs.
A great way then to finish another Bedouins season against another friendly and hospitable side. It's been enjoyable as always with a lot of laughter along the way and we've added a couple of new faces to the squad who have fitted in well. We will now look forward to the AGM and Duck supper in November – details to be announced soon but it's suggested you keep the first Tuesday and the last Friday of that month free. Well played everyone.
More photos available here.