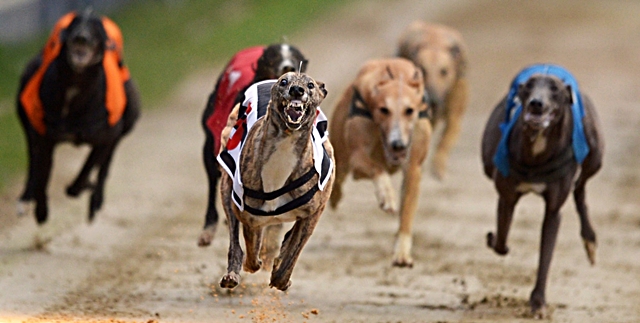 Your Chairman reports:
Following the success of last year's first such outing, the Bedouins made a return visit to Monmore Green stadium on April 18th for a night of good food, good company, and a bit – no less than 14 races – of greyhound racing.  Few of us got out without losing money.
The restaurant at Monmore Green is an unbeatable location for watching the racing from the warmth and comfort of your own dining table.  The ranks of tables are steeply banked, so that everyone gets a good view.  There are TV screens everywhere, so that you can keep up to date with the state of the betting, as well as watching interminable re-runs of previous races.  The fine food is served to your table, and the tote representatives are there to take your bets and – very occasionally – to pay your winnings.
No fewer than 18 made the trip this time.  As well as the chairman and Mrs Chairman, there was Adrian Susman, Andy Hill, Lee Bywater, Mike George, Austin Gregory, John Branch and Richard Spratley, plus their various wives, partners, families and friends.  Mrs Susman Junior had to miss out on a night at the dogs, having gone down with a late attack of kennel cough.
The first race was at 6.33 – yes, as precisely as that – and Mrs Susman senior continued her winning streak of last year by picking the first winner, then following it up with the second race winner as well.  Her form became a bit patchy after that, but she still managed to finish the evening on the right side of break-even.
Her poor old son had to wait until the eighth race for his first winner, then was unwise enough to miss out on the big winner of the evening, Bob's Best Babes, electing not to take note of the fact that his father-in-law is Bob.  Some of us did much better on that one!
Also at the chairman's table, the Hills were alive to the sound of … tote machines swallowing up their cash.  Mrs H started the evening well, when she decided, in light of Mrs Chairman's sparkling performance in the first race, to follow her choice in the second – a winner.  She soon lost confidence in that approach, however, and went her own way, losing the occasional £1 coin in the process.  Andy was adopting the cerebral approach, choosing carefully and succeeding rarely.
At other tables, Austin was likewise choosing all the wrong dogs until the eighth race.  He then took his chances with the jackpot races, investing no less than £1 to win over £9,000, which would have been his had he had the winners of the last six races of the evening.  He managed to contain his excitement as his first two proved to be winners, but he went awfully quiet afterwards, from which we drew our own conclusions.
Mr Mackay Bywater's party of four were likewise having some difficulty in locating winners, but there seemed to be plenty of good humour around, with the somewhat excitable George Michael for company. The latter quickly got the hang of dog selection, going for any hound – and there were plenty of them – who stopped during the pre-race parade to relieve himself.  The man with the bucket, who followed them around, had a busy evening, prompting those of us with long memories to speculate how he might have got on as a contestant on "What's my line?", particularly when asked to mime his work.
At the last of the Beds tables, Messrs Branch and Spratley, and their wives, were pretty quiet too, offering a noticeably glum response when asked how their evening's betting was going.  The skipper had completed his own race earlier, having made the run back from the Welsh valleys just in time to collect Mrs B and head for the track.  He was seen to be casting admiring glances at the water bowser that was dragged around the course from time to time, speculating on what he couldn't do to the Enville pitch with a machine like that.
All in all, it was another very successful social evening and, when it is repeated next year, those who missed out are strongly recommended to take part.  What's that?  You want to know how your beloved chairman got on with his bets, do you?  Well, I ain't going to tell you.  So there!