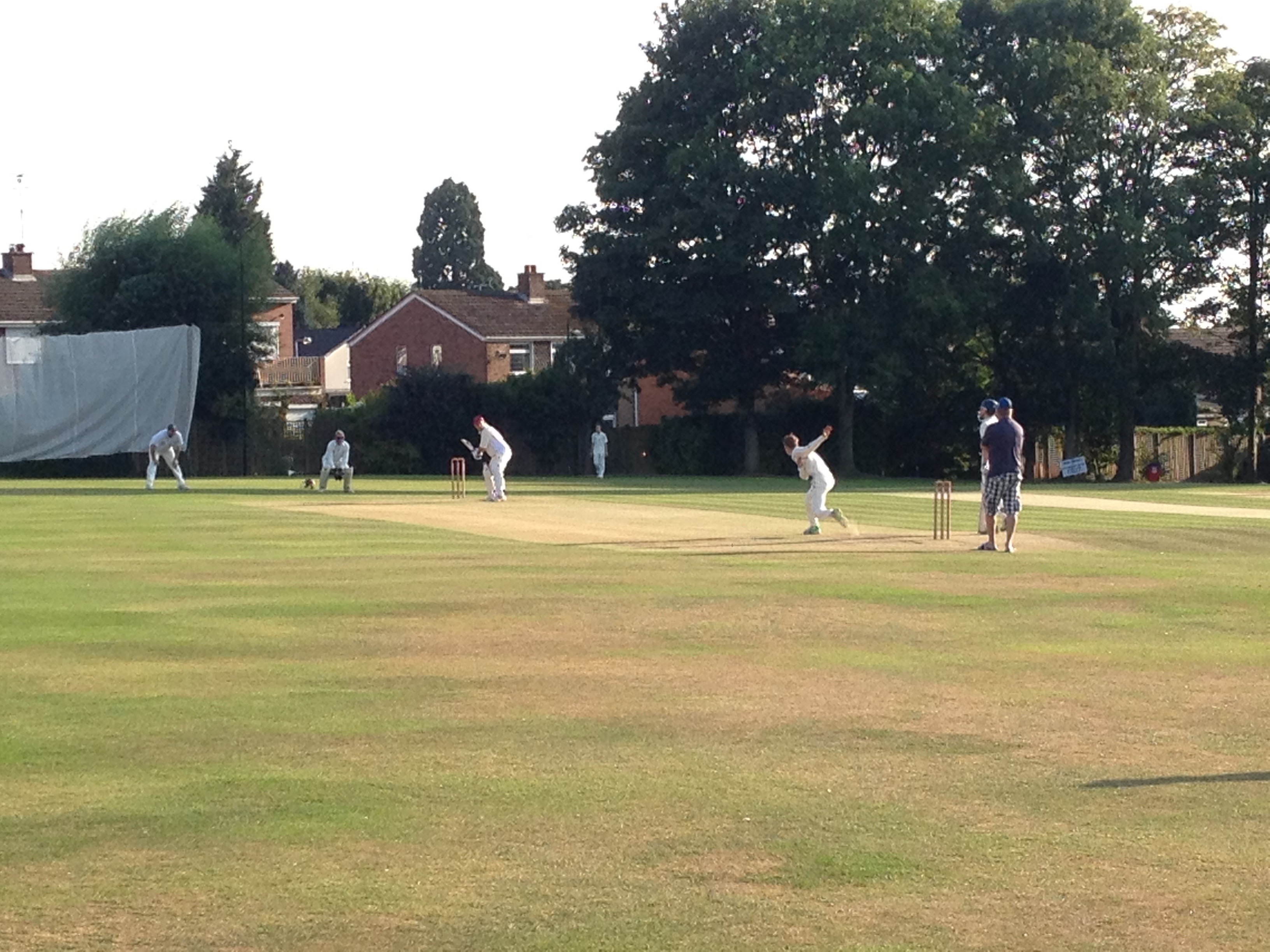 Bedouins v Pedmore Over 40s at Pedmore – Wednesday, 12 August 2015
Bedouins won by 7 wickets
Youth and experience combined to good effect at Pedmore to bring the Bedouins a resounding seven-wicket win in the last game of the 2015 season.  It was the two teenage opening bowlers and the two "experienced" (combined age of over 120) opening batsmen that set up the win, as the Beds rattled up 130 for 3, to win with a couple of overs to spare.
Owing to some non-availabilities – some for more painful reasons than others! – there were a couple of unfamiliar faces in the Bedouins line-up.  Ethan Jones, another of Austin's mates (he has a secret production line somewhere), proved a very able opening bowler, belying his somewhat tender years.  And Harry Stanier, son of Jon, contributed some hefty blows to the Beds' innings.
Unfortunately, our hosts seemed to have less idea of the importance of prompt arrival for an evening game beginning in mid-August.  So, while all Bedouins were changed and on parade by 5.45, the opposition arrived in dribs and drabs somewhat later, resulting in the toss having to be falsified in order to get the game underway while there was still some light around.
Therefore batting first, Pedmore made 127 for 6 in their 15 eight-ball overs, Ethan John taking 2 for 16 and Josh Lemm, opening the bowling at the other end, 1 for 21.  There was also a wicket apiece for Stanier senior and junior.
For the second time this season, John Howells and Jon Stanier formed a highly experienced opening pair.  Both were in fine form and both retired on 30.  The former, back on a favourite old stamping ground of his, showed the return of much of his old timing in hitting five boundaries, while Jon Stanier reached the boundary ropes six times.
Not to be outdone, Richard Ferguson and Richard Spratley also brought the crowd to its feet with a couple of classic cover drives.  With Harry Stanier hitting 29 not out, the Bedouins' total of 130 for 3 was more than enough to see off a team of experienced cricketers.  Not bad for what some appear to consider "a small club"!
Pedmore Over 40s 127 for 6 (John 3 for 16; Lemm 1 for 21; J. Stanier 1 for 5; H. Stanier 1 for 29)
Bedouins 130 for 3 (Howells 30; J. Stanier 30; H. Stanier 29 not out; Gregory 13)
*  *  *  *
The Bedouins end their 2015 season in good shape.  A number of welcome new regulars have all shown good form.  Our finances seem pretty healthy.  Several new fixtures are in the offing for 2016.  And our "buffet belles" have continued to enable us to provide first-class hospitality.
It hasn't been the most successful season from a win/lose perspective – a pretty even split between victories and defeats – but Bedouins have continued to play cricket the way they want to – "seriously for fun".
Now we'd like a few more than the "regulars" turning up for the AGM, and a bumper turn-out for the Duck Supper.  AGM at the Fox at Stourton on Tuesday, November 3; Duck Supper at the Cat at Enville on Friday, November 27.  But you didn't need reminding about those dates, did you?