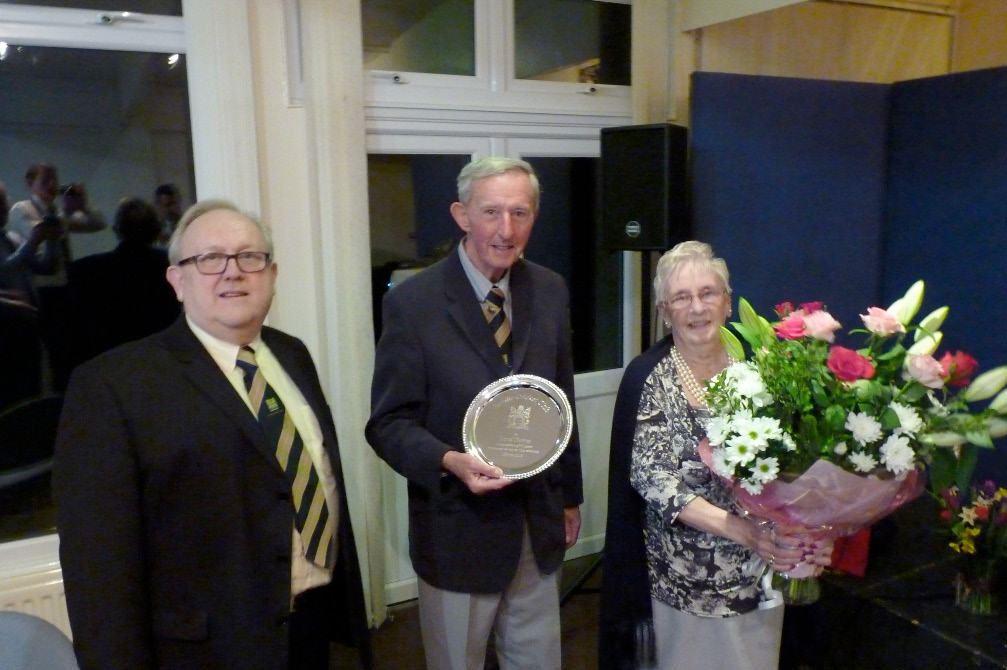 Our good friend, the doyen of Enville CC, David Thomas, is this year marking 50 years as secretary of Enville.  That club has rightly made a bit of a fuss of him, and of Dawn, at the club's annual dinner in the pavilion.  Tribute was paid by another Enville stalwart, Jonathan Roe, and we reproduce here what he had to say on that occasion:
We are here tonight to celebrate the successes of Enville Cricket Club.
In 5 years' time cricket will have been played on this ground for 200 years, my personal involvement goes back to around the winter of 1970 when Wilf Bullock invited me to nets at Edgecliffe.
There were various players Mike Morris, Aubrey Sproson, Dave Darlington, Bill Taylor, Peter Howe, The Farmer Brothers and Fred Hodges but I was introduced to an immaculately dressed individual white pumps not trainers that had been carefully meltonioned, cricket flannels with creases as straight as rail tracks a smart white shirt and a knitted slip over which just might give it away this was Mr Thomas or DT to Enville Cricket.
Even then I was mesmerised his turn out was immaculate "Bradman said if you aint a cricketer you can at least look like one". Well I can assure DT was a good cricketer captaining the mid -week side, Vice-captain of the 1st X1 and then captain of the second X1, as well as a member of the famous Wrigley indoor league side.
He was an exponent of seam bowling and renowned for his line and length, i.e. not bowling both sides of the wicket and he bowled with a repeatable action that was as near perfect as any modern day coach might dream of. He was also a capable batsman.
David become Fixture Secretary in 1962 and General Secretary in 1966 and tonight marks the 50th club dinner that he has organised which is an achievement in itself.
Back to 1970 Enville had one youth side made up of local lads from Enville and Kinver, David threw himself in to Coaching and became an NCA coach. Throughout his time he has always supported youth cricket not only here at Enville but also in Secretarial post for The North Worcestershire Youth Competitions, the Norman Gifford and Peter Dudley Competitions. David planted a seed in 1970 which has now grown and the club has four competitive senior Saturday sides and plays age group cricket under 8s through to under 19 as well as Sunday and Mid-week X1s
His senior Cricket involvement outside of the club has seen him in office for the Worcestershire Cricket Association, Midlands Club Cricket conference, Worcestershire Border League and the Worcestershire County League were his tremendous attention to detail has set him apart from his peers.
David has worked particularly hard in successfully gaining grants for the club over this period for mowers, covers, sight screens and more recently the new changing rooms, equipment store and pavilion refurbishment that you can see tonight .
Remember a lot was done without A MOBILE PHONE text, e mail, twitter or face book and all the work was completed despite having a family and a full time job.
I use the word Village Cricket with affection and pride because this epitomises what cricket is all about, Daryl came from a village side to captain Worcestershire. Without these clubs we won't have players at County or test level and the work that David has achieved is incredible.
In the last 20 years Enville have seen three 1st X1 captains that have come through their youth sections I am sure that Worcestershire's Academy Coach and Daryl would settle for that in years to come. That is the strength of this club.
Village Cricket is fundamentally important in this location as it is in the rest of England but in Enville it creates the link between the Hall and the Village and David's work as Chairman of the Athletic Social Club enables Enville to enjoy the experience of this beautiful setting and facility.
There was a time when it looked like Enville was a one man club and indeed as in a lot of clubs Cricket Boards have seen burn out to the detriment of some well-established sides. But in the words of Elliot Wilson David has surrounded himself with good people to enable this club to move forward and with the tremendous support of people like Frank Golding, John Branch, Paul Grainger, Sheila and Rob Miller, Fred Hodges and the members of this club this Enville story will continue to thrive well after the clubs 200th anniversary
Secretary, player, Scorer, Umpire, Groundsman, Coach, Cricket Supporter behind him his number one supporter Dawn who has been with him every step of this journey in making this club what it is today in cricket and putting Enville on the map.
Jonathan Roe