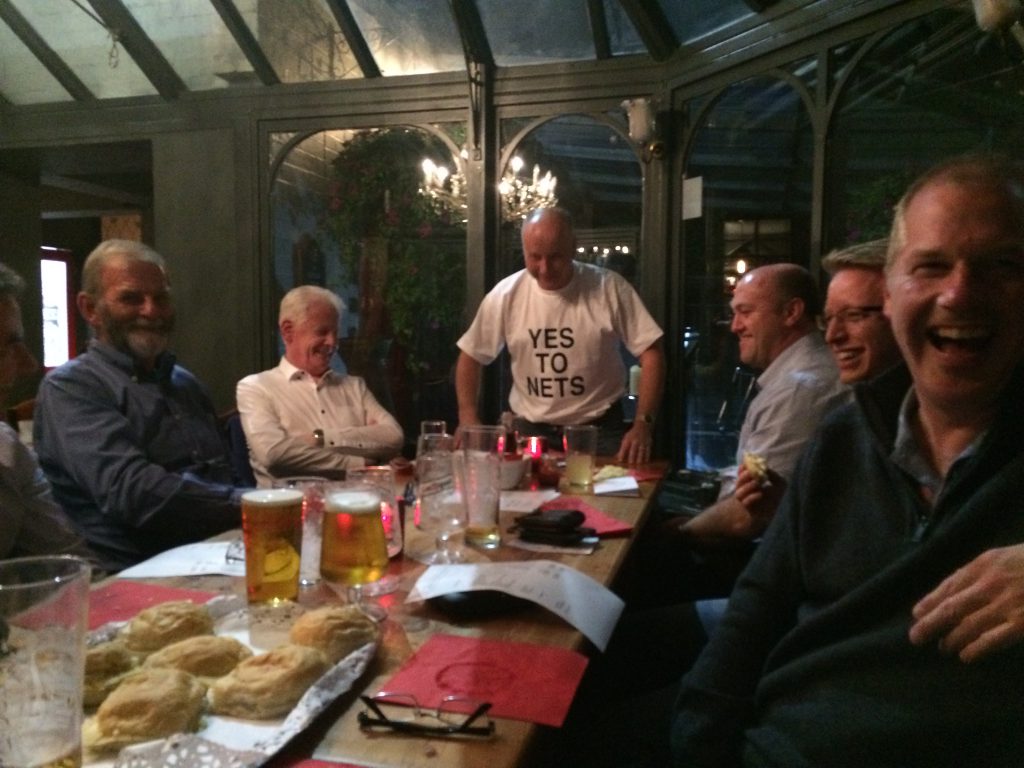 BEDOUINS AGM 2016
HELD 1st NOVEMBER 2016 2000HRS
Chairman, Brian Susman
In attendance: Adrian Susman, Andy Hill, Richard Spratley, Austin Gregory, John Branch, John Howells, Lee Bywater, Neil Smith, Richard Ferguson, Mike George, Tony Hancock.
BS opened the meeting thanking everyone for attending.
APOLOGIES
Apologies received from V Currie, J Hill, J Stanier and P Lippitt
FIXTURES
BS went through the 2016 fixture list gathering a general consensus as to whether the fixtures would be renewed in 2017.
BS, in full agreement with those in attendance, suggested the following fixtures for 2017:
Wednesday Fixtures
Kinlet (A)
Oldswinford (H/A)
Chancers (H)
Beacon (H/A)
Open GI (H or A)
Enville (H)
A Gregory XI (H)
Belbroughton (H/A)
Sunday Fixtures
Fossils (H)
Oldbury Old Boys (H)
Halifax SSP (H)
Kinlet (H)
JB informed the meeting that Enville CC will no longer be entering a team into the mid-week league. As a result, Bedouins should have greater flexibility and availability for Wednesday evening fixtures in 2017.
Treasurer's Report
A copy of the Treasurer's report was distributed to those present. Club funds are currently healthy, showing a small loss for the year of £159.25. Total balance at present is £2414.66
TH confirmed that subscriptions were collected from all regular players.
TH stated that the net sessions made a total loss of £100.
The Treasurer's report will also be available at the Duck Supper.
SUBSCRIPTIONS
TH indicated that as the club was financially healthy, subscriptions should be maintained at the current rate of £40 per year. All in attendance agreed.
OFFICERS
All current Officers are happy to continue in their roles.
Chairman BS: proposed by A Hill, seconded by L Bywater
Captain JB: proposed by J Howells, seconded A Hill
Secretary LB: proposed by B Susman, seconded J Branch
Treasurer TH: proposed by J Branch, seconded L Bywater
A Susman happy to continue in his role as 'Head of Communications' but requested some assistance with team selection on match days for last minute availability.
RS agreed to be a match day contact point.
JH suggested that AS/RS make use of the Enville CC Facebook page should the Bedouins need reinforcements at short notice.
DUCK SUPPER
LB confirmed that the annual Duck Supper would take place on 25th November 2016, meeting at 1915hrs ready to sit at 2000hrs.
LB will contact the remaining Bedouins yet to clarify their attendance and gather remaining menu choices.
LB also requested clarification of the number of ladies attending the supper. LB will book a table for five.
LB to contact D Thomas for menu choices.
NETS
RS fully endorsed the continuance of winter nets, revealing a campaign T-Shirt.
BS asked if the club would like to continue with nets as they made a loss last year of £100.
BS revealed that nine Bedouins had responded to the 'Bedouin Referendum' e-mail in support of continuance of the nets sessions.
LB suggested arranging net sessions on a different evening, such as a Wednesday, to boost attendance.
LB, MG and NS all confirmed that this would make attending nets much easier.
No objections raised to the switch to a Wednesday night.
BS asked MG if he was happy to contact King Edwards to check availability for a Wednesday and try to book the same time slot as last year. MG agreed.
NEXT AGM
The next Bedouins AGM will be held on Tuesday 7th November 2017.
ANY OTHER BUSINESS
Enville CC
JB informed the meeting that Trevor Spears has been appointed the new Chairman of Enville CC.
Cricket Teas
'Bedouins Referendum' e-mails were unsuccessful in recruiting a firm offer to provide the Bedouins post-match buffet. AS informed the meeting that Nicki would consider continuing but would require some assistance in transporting the food to the ground.
BS offered his assistance.
JB, AH and LB were all able to offer assistance with preparing Sunday fixtures teas if requested to do so.
New Recruits
BS informed the meeting that eight Bedouins had responded to the 'Bedouins Referendum' e-mail with prospective new recruits.
Club Shirts/Hats
BS confirmed with AS/TH that the Bedouins still have significant stock of new Bedouins shirts and caps. BS/TH confirmed that significant investment had been made from club funds and were hopeful that some of our new recruits and existing members would take the opportunity to display the club colours.
Defibrillator
BS wanted to re-affirm the work that had been followed through by D Thomas in securing a defibrillator for use at the Enville CC ground. This was following a Bedouins suggestion and offer of funding following last year's AGM.
MG and LB attended defibrillator training held at Enville CC. This was provided by West Midlands Ambulance Service.
Cricket Balls
JB will continue to supply the cricket balls via Enville.
AS/LB stated that we still hold a small stock of cricket balls.
RS again raised the subject of pink cricket balls for trial in low light. JB/BS suggested that RS purchase a couple to try out. RS will be able to recoup the cost from club funds.
Golf Day
BS confirmed that he would approach J Davidson about arranging the Bedouins Golf day 2017.
All agreed that Sapey was the chosen venue.
BS stated that Sapey has been put up for sale but is still hopeful we can use the course.
LB informed the meeting that last year, following winter tees, the same deal continued to be offered into the summer months on a Monday.
BS would e-mail J Davidson about arranging on a suitable day.
Social Night
BS requested suggestions for 2017.
Several options were discussed by the membership, however enthusiasm for the event and a volunteer to make arrangements were not forthcoming.
BS suggested the Bedouins Social Night be postponed for 2017. All agreed.
No other business raised, BS closed the meeting at 2115hrs.
Minutes L Bywater