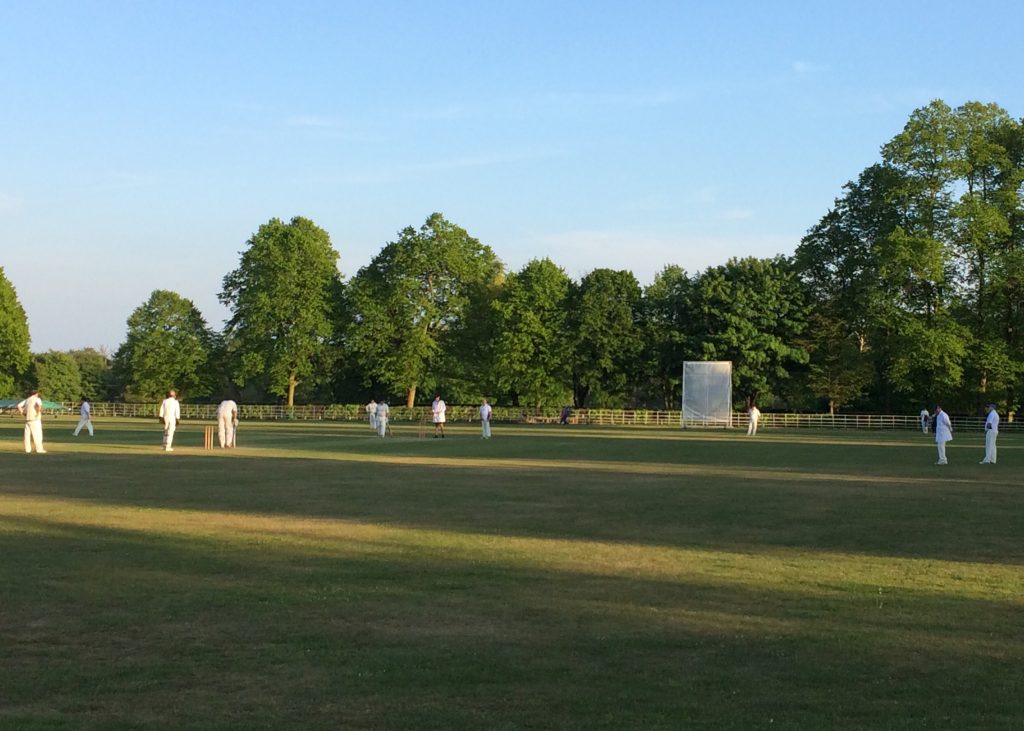 Bedouins v Beacon at Enville, May 10th 2017

Bedouins lost by 7 wickets
The first game of the 2017 season "went down to the wire", as the saying goes, before the Bedouins snatched defeat from the jaws of victory. Visitors Beacon scored the winning run off the final ball of the last over in a game in which the home side appeared to be cruising to victory at one stage. But Beacon managed to get just the right pair at the crease at the vital time to accelerate the scoring rate and enabling Mr Beacon, Alan Green, to hit the winning runs off the last ball of the 20th over.
In spite of playing out the first over as a maiden, the Beds made a good start to their innings. Ian Woodhouse has clearly decided that running between the wickets is not a good idea; his 31 (retired) included seven boundaries and one six, to add to just one single. At the other end skipper JB was more inclined to deal in singles, but had his share of boundaries too in 30 (retired).
John Howells contributed a brisk 15 and Jon Stanier 23 not out, as the Beds completed their 20 overs with a reasonably competitive total of 113 for 4.
Having confessed to the skipper that he was carrying an injury, Lee Bywater was immediately, of course, asked to open the bowling. He responded well – in spite of great pain (he says) – with four overs for 21 runs. At the other end, Spratters was even more parsimonious (look it up!) in completing four overs for just 10 runs.
After seven overs, Beacon had just 32 on the board, but they managed to step up the scoring rate, in spite of losing one opener to a smart bit of stumping by John Howells, and a second wicket to a run out. Austin Gregory was the only wicket-taking bowler for the Beds (2 for 17).
The visitors needed two runs off the last ball to win, and Alan Green was able to pull it to the boundary to complete the seven-wicket win.
Which just left the Bedouins and their visitors to enjoy the fruits of Sam Chambers's first — and very successful — effort at provision of a Beds buffet. Top marks for eggy sandwiches!
Bedouins 113 for 4 (Woodhouse 31, Branch 30, Stanier 23 not out, Howells 15)
Beacon 116 for 3 (Gregory 2 for 17)