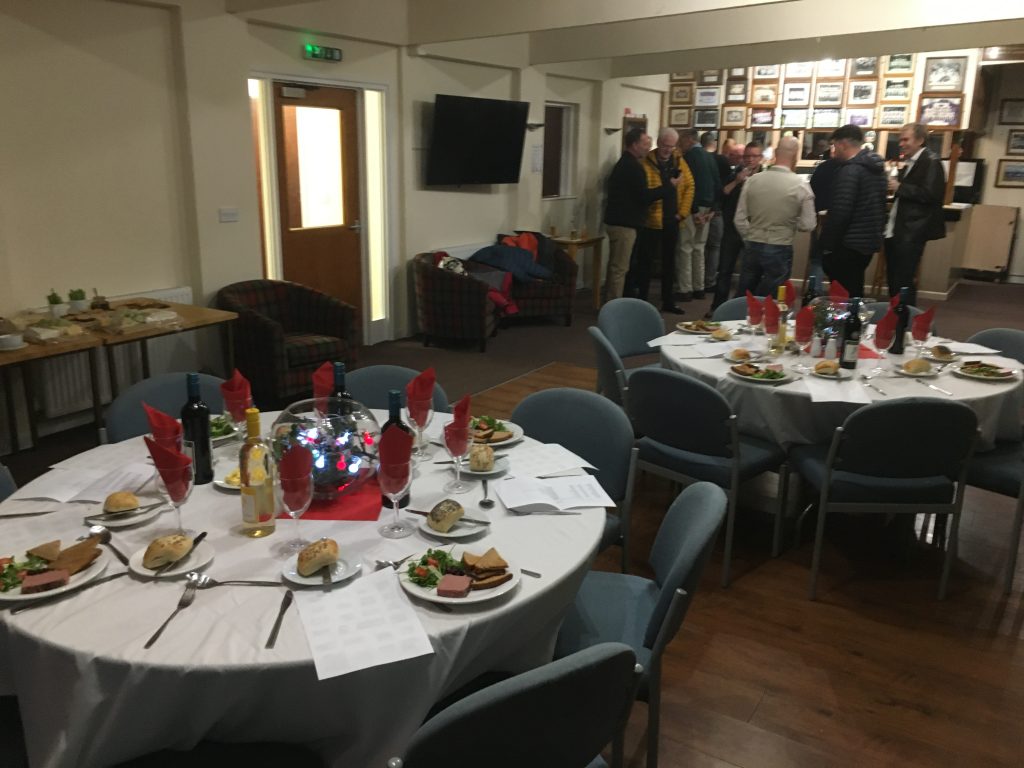 This year, Bedouins CC broke with tradition, taking the Duck Supper away from its long-term venue, The Cat in Enville, and ensconced themselves in Enville's club house. Spratters volunteered a contact of his to do the catering, so everyone waited with bated breath to see whether the food would be up to the high standards expected by a group of gentlemen who are used to fine-dining in the highest circles, like Kentucky Fried Chicken and McDonald's. They also waited with bated breath to see if Spratters would actually turn up. He did so, fashionably late.
The signs were good. The tables were well presented and in a change from previous years at The Cat, we all had some elbow room. Spratters breathed an audible sigh of relief as the starters were met with approval, followed by excellent main courses, and sumptuous puds. So much so, the cheese course was all but written off.
Some things are set in stone. We had the usual quiz which, as always, was hard fought, but eventually won by Paul Lippitt and Trevor Spears (Enville's chairman and welcome guest for the night). We also had the Warner trophy for Bedouin of the Year which was won by Paul Lippitt (there's a pattern emerging here). But we also had a new trophy, the Barry Cottle trophy, which from now on will be awarded to recognise the champagne moment of the year. This year it went to… no not Lippo, but our esteemed chairman. What was the moment that won him this treasured accolade? It was that moment when, sat eating tea in the last game of the season, away at Kinlet, a dog darted between his legs to half-inch his eggy sandwich. Full story here.
Probably more importantly though, the Barry Cottle trophy is a means by which we can all remember the Bedouins founding member and ex-chairman. The man responsible for the ethos by which we still proudly play today – "Playing seriously for fun".
The averages for the 2019 season were revealed, with many presuming that Lippo would claim himself another win in the batting category after his epic 92 retired lame. However it was good to see Andy Hill back at the top of the charts with an average of over 60, in his first full season back after a long injury lay off. The bowling plaudits went to Adrian Susman. Full details of the 2019 averages are available here.
We also enjoyed the new skipper's inaugural speech, which was spot on. Short, witty and entertaining. Lets face it though, who would dare tell him if it wasn't? Finally, we had some emotional words from our Chairman as he divulged his plan to stand down at the next AGM. That will leave some big boots to fill. Quite literally. Who will step up to the mark?
So, as usual, a good night was had by all. Long may it continue.