BEDOUINS AGM 2020



Held 3rd November 2020 20:00hrs
Chaired by Lee Bywater
In attendance: A Susman, A Hill, J Branch, L Bywater, A Hancock, M George, A Gregory, N Smith and J Stanier
LB opened the meeting thanking everyone for attending.
APOLOGIES
Apologies received from B Susman, J Hill J and Howells.
FIXTURES
LB went through the 2020 fixture list gathering a general consensus as to whether the fixtures would be renewed in 2021.

LB in full agreement with those in attendance suggested the following fixtures for 2020:
Wednesday Fixtures
Kinlet (H TBC)
Oldswinford (H/A)
Beacon (H/A)
Enville
A Gregory XI
Belbroughton H/A
*Blakedown H/A
*New Fixture
Sunday Fixtures
Fossils (H/A)
Ashby Albion
Sunday home games subject to availability.
TREASURER'S REPORT
A copy of the Treasurers report was distributed to those present. Club funds are currently healthy but there was a loss for the year of £364.74 as a result of COVID 19. Total balance at present is £1407.72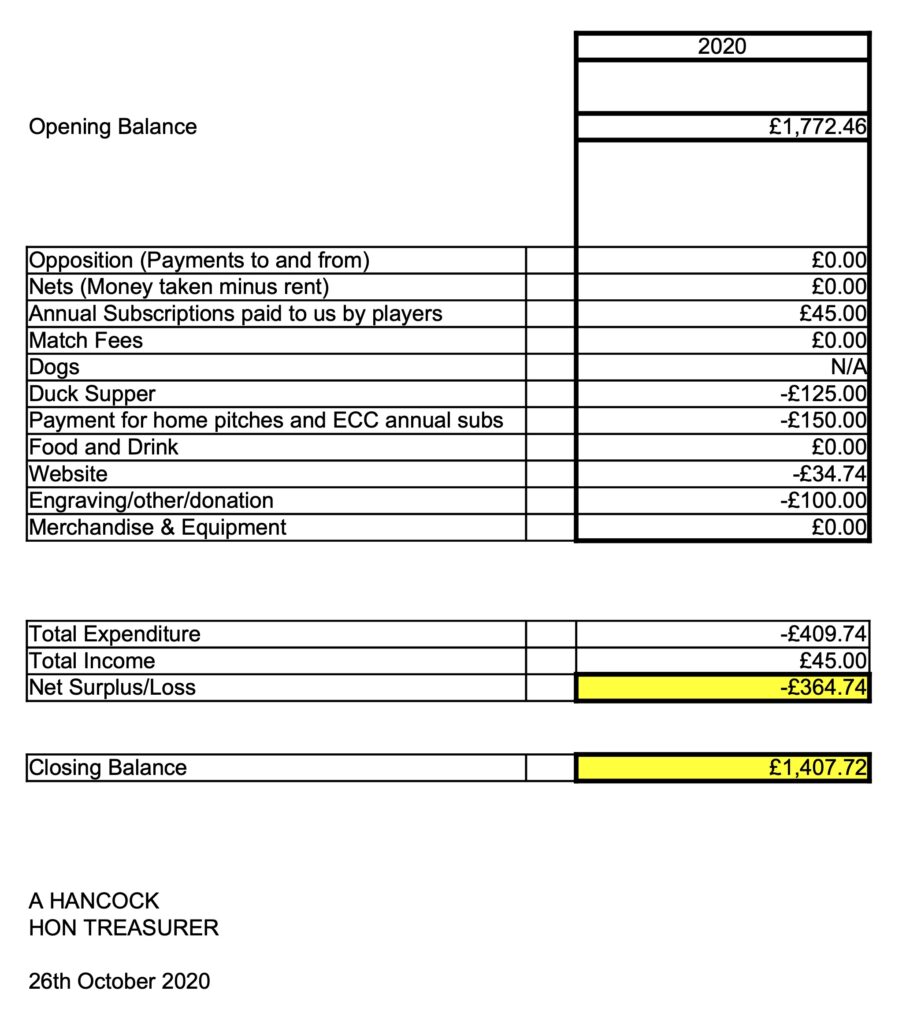 SUBSCRIPTIONS
AH suggested that despite the loss this season, subscriptions should be retained at the current rate of £45 per year. Memberships were not collected during the 2020 season as there was no cricket played by the Bedouins due to COVID 19.

OFFICERS
Prior to the meeting Brian Susman had circulated his intention to stand down as Chairman after over 35 years.
Brian's Message is below:
I hope you enjoy the first ever remote AGM of the Bedouins and I offer my sincere apologies for not being able to attend in person.


As you may know, it had been my intention all along to stand down as chairman at this AGM. My fading eyesight had made it necessary. But now, the need to resign is more acute, as ill health has taken over lately. That is why I was shipped off to PRH Telford a few weeks ago, where I spent a jolly week incarcerated – no visitors, and nothing to read, as I couldn't see it. With time hanging heavy, it was a sheer delight to have phone calls from some Beds. To those who took the trouble to make contact, my sincere thanks. It was very kind of some of you to take the trouble, and I want you to know that it was very much appreciated.


Standing down this year, while Covid is still ruling our lives, is not ideal for my successor. But we do have one volunteer, prepared to take on the chairmanship, so I will leave that for the proper electoral process to take place before saying any more.


Being the Bedouins chairman for the last 35 years or more has been a rare privilege and a real pleasure. We have had some wonderful times together, and many happy memories to look back on. It has given me real pleasure to see that, as some members have come and gone, we have always been able to stick to Bedouins principles of playing the great game "seriously for fun". Long may that continue, and I am sure that, under the newly elected chairman, it will be the case.


Have a good meeting. And I look forward to seeing you all in the 2021 season.


Regards

Your ever loving Chairman
LB wished to have it recorded in the minutes the fact that Brian has done an amazing job for which every Bedouin was grateful.

LB also indicated he was aware of a Bedouin interested in becoming the new Bedouins Chairman and proposed Mike George.

A Susman Seconded. None opposed.
Mike George welcomed as new Bedouins Chairman.
Captain LB proposed by M George, seconded A Susman
Secretary LB proposed by M George, seconded A Susman
Treasurer TH proposed by A Hill, seconded M George
Head of Comms AS proposed by A Hill, seconded by M George
DUCK SUPPER
LB confirmed that the annual Duck Supper for 2020 was cancelled due to COVID 19.
LB indicated that work commitments were impacting on his ability to arrange the DS and requested the assistance of another Bedouin to take up the arrangements for next year.
AH offered to take over this task for 2021 and moving forward.
JB indicated that last years caterers would not be available moving forward.
AH suggested the return to the Cat at Enville due to the facilities and ease of arrangements.
General consensus at the meeting was that this was a good idea.

NETS
NS to investigate local Nets availability and report back to the Chairman.

NEXT AGM
The next Bedouins AGM will be held on Tuesday 2nd November 2021.

ANY OTHER BUSINESS
Cricket Teas
MG/AS to contact Sam to check her availability to provide Wednesday night teas.
AH and AS confirmed Jo and Nicky happy to continue to assist with Sunday teas.
LB also confirmed Claire happy to assist when required for Sunday Fixtures.

Golf Day
LB confirmed that he would approach J Davidson about arranging the Bedouins Golf day 2021.
Sapey was unanimously voted the preference for this year's event.
LB indicated that COVID may still impact on the event.
No other business raised; BS closed the meeting at 2115hrs.

Cricket Balls
LB will arrange for cricket balls for the new season through previous supplier.
*Note – JB has since been in contact with LB and a dozen balls have been ordered through Enville.
Match Reports
MG asked if there was a volunteer for match reports. AS indicated that he would be willing to take on this task.
Meeting closed 2110hrs
Minutes L Bywater