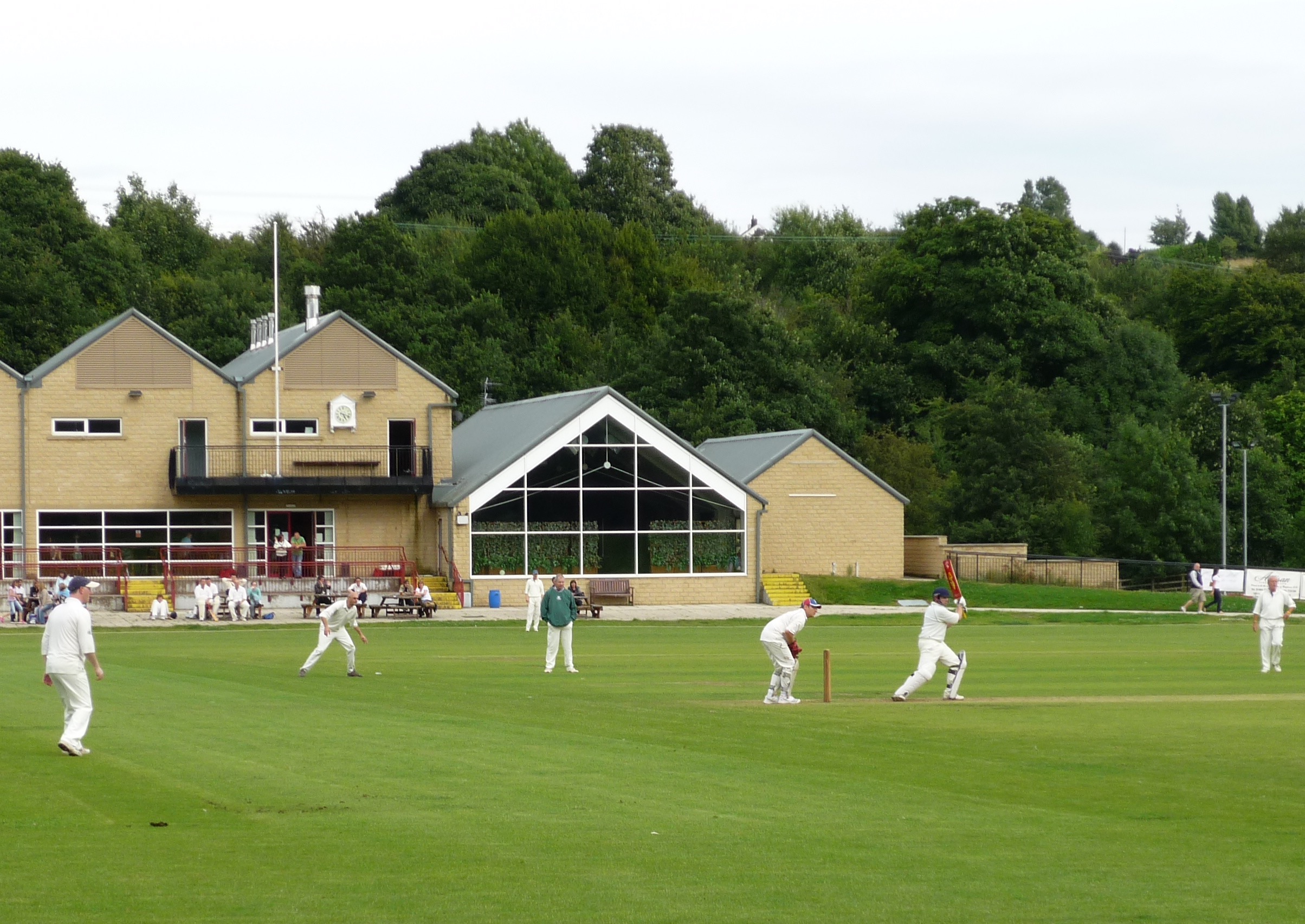 North Park v Bedouins at Brighouse – Sunday, 15 August 2010
Bedouins lost by 16 runs
Bedouins packed their bags with the usual tour essentials (lagging, deep heat, fake sick – hang on, who forgot the fake sick?) and headed for Yorkshire to play North Park for the coveted Rasche Shield. It's been a good while since the Bedouins managed to get their names scratched onto the shield and it's going to be at least another year before they can manage it again. After getting themselves into a strong position at the halfway point in the game by restricting North Park to a 160-run total, the Bedouins, as they are sometimes prone to do, self-destructed.
But let's start at the start. This year, many of those travelling up the country decided to stay over on Saturday night so as to be refreshed and in tip-top condition when arriving at the ground Sunday lunchtime. The result was a party of 15 Bedouins, Bedouwags and the odd Bedouweeny settling into the Premier Inn (Huddersfield North).  Having stayed in several 'Prems" over the past few years, the skipper can recommend this as one of the best. A thought echoed by the rest of the party. Premier Inn have had the foresight to position the majority of their hotels next to a decent public house and this one was no different. The Old Mill served some excellent food on Saturday night and was a convenient staggering distance from our beds. Just as well…..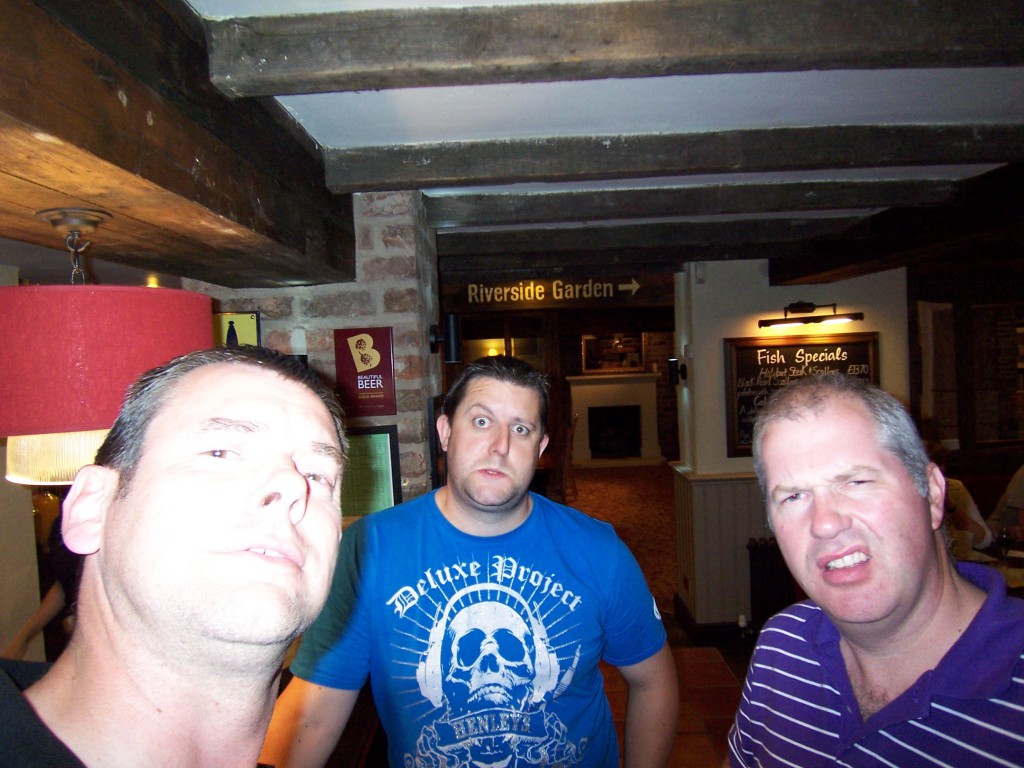 Some people stayed up longer than others and the skipper thought it his duty to stay and keep on eye on the two remaining members, Hill and Bywater to make sure they didn't over indulge. The photo (left) is all the evidence you need that we were all sober as a judge. Eventually the bar staff refused to serve anymore, so it was time for bed.
Beds had been a player short up until about 10.15 p.m. on Saturday night until, back in the Midlands, Branch secured the services of Paul Moran who it just so happened was Enville second XI skipper; so a great addition to the team. No other injury niggles were reported and Captain of Vice, George, had recovered from his back problem although many were worried there may be a recurrence during Saturday night. There had also been an impromptu game of cricket in Shibden Hall park on Saturday afternoon with Mr Chairman playing a long, gruelling innings. Thankfully there were no injuries as a result of this game and we all enjoyed a spot of tea in some beautiful surroundings afterwards.
Sunday, after a hearty breakfast the squad met up at midday in the New Inn in Brighouse for lunch, generously laid on by North Park who joined us there. Branch, Lockley, Mason and Moxon travelled up on Sunday morning and met in the pub.  The team was now complete.
And so to what turned out to be one of the most memorable Bedouins games the skipper can remember (mind, cant remember a lot these days). The toss was lost and North Park decided to bat. The sun was out.
North Park are always a strong side and the skipper thought that the team would do well to keep them to under 200. The Beds managed that in some style however. Bywater as usual took the new ball and used it to good effect as did George who took the first wicket in his second over with Moran taking a smart catch (and taking two more later – told you he was a good addition to the team). North Park had made 46 from their first ten overs.
Moran and Lockley took over at the change. Opener Dobson T. for North Park was crafting an innings and he eventually retired on 50. Moran (0 for 13 from 5 overs), after a stiff start having played the day before started to pin the batsmen down as did Lockley, who also took a wicket (1 for 21 from 6 overs). With 20 overs gone North Park had made 76.
At this point we witnessed the most exciting and enjoyable passage of play ever seen in a Bedouins game (in my opinion). Pearson (1 for 36 from 8 overs) was bowling well and took the wicket of Baker who had started to try and play some big shots and was well caught by Moxon at mid wicket. Meanwhile at the other the skipper turned to Hill A. with devastating effect.
In his second over Hill A. took two wickets in two balls, the first of which was the much-prized scalp of Dobson J. Clean bowled. The second was a catch behind the stumps by Hill J. The field closed in for the hat-trick ball but it wasn't to be. In his very next over however, Hill A. sparked scenes akin to England winning the ashes. First he had Walker caught on the boundary by Moran; the next ball saw Parkinson stumped by Hill J. and again the field closed in. There was uproar when the next ball again saw Hill J. whip the bails off for another stumping and Hill A. was submerged under a sea of Bedouin bodies, all ecstatic. Hill A. finished with 5 for 20 from 4 overs.
Dobson T. returned to the crease but it was too late for him to do much damage and the skipper mopped-up to finish with 2 for 4 from 2.2 overs. North Park ended on 160 all out.
Tea and cake were taken between innings and that may account for the slow start the Bedouins had. Branch and Hill A. (pictured above, Hill A. in action, Branch far end) continued their long-standing opening partnership. They know each other so well they're thinking of getting married next year. Chasing a low total they had no need to try and force the issue early on and the bowling gave them little option anyway. At the 10 over mark Beds were 29 for 1 with Branch succumbing in the tenth over for 7.
Third man in Moxon, who has been a reliable source of runs in the past had an off day and when on three played a lofty off drive and was well caught by Dobson J. with the ball travelling at speed.
Enter Bywater at number four. Here was a man coming into bat with an average of 105 (yep, 105). The skipper decided he had to try and ruin that somehow but Bywater was again on form. Even though Bedouins only had 38 from the first sixteen overs, hopes were high with Hill A. and Bywater at the crease; two very capable big hitters. Hill A. was going well until he received one of 'those' balls – it bounced three times and looked harmless down the leg side. Hill A. looked to give it the punishment it deserved but got a top edge and was caught behind for 27. Disaster.
More disaster was to follow. Hill J. made a brief appearance before being adjudged LBW for one run. Lockley is another batsmen who is very capable of scoring big runs but a hideous mix-up saw him run out for one. He trudged off utterly dejected (left).
Things were now looking dire for the Bedouins. Time for the skipper to enter the fray and the guide his team victory with a Captain's innings. Nope. He struggled to make 10 runs before being caught at mid wicket going for a big boundary.
The 29th over and Bedouins were 88 for 6. But still Bywater was plugging away and picking up runs and eventually he had to retire on 50. Hancock, christening new batting gloves, brought his brand of "stand and hit it" batting to the game, which was just what was needed. He made a rapid 12 and generated some excitement with a boundary before losing his middle stump (pictured right). But before that, George made three before being caught and Moran looked promising, hitting a four as soon as he reached the crease but then playing across the line to a ball that kept mighty low and was given out LBW.
With score on 128 in the 36th over the game looked to be going North Park's way. Pearson was at the crease and Bywater returned. Pearson concentrated on giving Bywater the strike and not getting out which he managed to do 2 not out). Bywater then launched an almighty six to get the Bedouin faithful cheering again. The game was balancing on a knife edge. The end of the 38th over and Bedouins were 143 for 9; two overs to get 18 runs – not impossible with the Terminator at the crease. Hopes were dashed however in the 39th over when Bywater was finally bowled for 60, and the Beds finished 17 runs short of victory. A great effort by the big man.
So with that, it was back to the New Inn for some tea, again laid on by North Park. The Chilli was superb and went down a treat. There was also Corned Beef Hash available. We were well looked after and many thanks to John Dobson and the boys and girls of North Park for that. The Rasche Shield was presented yet again to North Park by Mr Chairman and with that most of the team headed off on the long journey home.
A few headed back to the Premier Inn for another night and there was a very pleasant gathering in the Old Mill attended by Mr and Mrs Skip, Lauren Skip, Mr Hancock, Mr and Mrs Branch and Mr Moran. Another session that went on until last orders and a great way to finish off the tour.
Hopefully everyone enjoyed it. It was great that people made the effort to stay over and the skipper would like to thank all those that made the trip, and gave the whole occasion such a great atmosphere.
Man of the match – I think it would be fair to say it's a toss up between Hill A. and Bywater so make up your own minds. It's interesting that the two best performers on the day were the last ones out of the bar the night before (pictured above) but both had storming games, and the one thing skip will never forget was that hat-trick moment and the look on Hill A.'s face whilst being mobbed by the rest of the team. Priceless.
Tour photos available here.