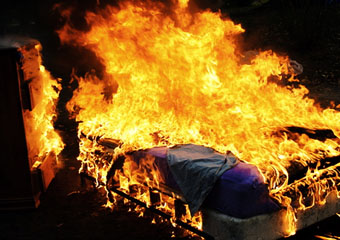 Bedouins v Pedmore – Wednesday 27 July
Bedouins won by 10 wickets
It's been a funny season for the Bedouins. So many times they have snatched defeat from the jaws of victory, getting into match-winning positions only to fail in driving home their advantage. So would you believe me if I said Bedouins won this game by 10 wickets, and with 11 overs to spare against a strong Pedmore side, meaning they had achieved a 'double'.
Pedmore batted first with skipper Bywater opening the bowling. His first over was a maiden. During his second over he picked up an injury (a lot of those in the Beds side these days) and he had to take himself off to be replaced by Susman (1-17-4). At the other end Gregory had set about slowly dismantling the Pedmore innings with an incredible spell of bowling that deceived and bamboozled.
He finished with 4 for 11 from his four overs. Three of those were clean bowled and one was another sharp stumping from Howells behind the stumps (there have also been a lot of those this season). As a result, Pedmore's innings never got going. The fielding side were even holding their catches, one for new boy Trevor Spears and another for Gregory (you couldn't keep him out of the game).
Even a change of bowling didn't give Pedmore any respite. Stanier (3-16-4) replaced Gregory and straight away was in the wickets. In the 14th over Pedmore were 55 for 9. It was only a late rally that saw them make it to their final total of 72 for 9.
So having got into this strong position, how would Bedouins react with the bat? Skipper said it was as good as won before the batsmen made it to the crease (wow, brave man). But we have seen it many times this season where our batting has lacked conviction and the game has been lost.
Not this time. Smith N and Lippitt were not hanging around. The ball was dispatched to the boundary in quick succession. There was no playing safe here and as a result Lippitt quickly retired on 31 and Smith N (22 not out) and Hill J (16 not out) finished things off at the end of the ninth over.
Let's hope this form continues on Sunday with our next game being against an unknown quantity in Belmont CC.